This is an archived article and the information in the article may be outdated. Please look at the time stamp on the story to see when it was last updated.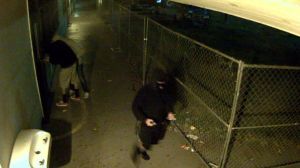 STOCKTON-
If you're going to pull a senior prank, you have to remember lesson one, schools have surveillance cameras now.
In the early morning hours of June 2 and 3, a group of five teens went crazy with the crazy glue at Lincoln High School in Stockton.
"It was like a senior prank and they just glued all the doors so there'd be no finals," rising junior Nicholas Pena said.
Nearly 70 classroom doors were hit, which brings the grand repair total to almost $2,800.
But the pranksters-turned-legitimate vandals didn't count on a flyer announcing a reward for info leading to their arrest – and the fickleness of their fellow classmates.
"Our school put a reward for $1,000 and everybody's like, 'Oh yeah, I'd be willing to snitch on that person,'" rising senior Christian Rivera told FOX40.
So on the last day of class at Lincoln High, there was a lesson passed to the younger generation.
"I'm gonna pull a way better senior prank than that, but it's not going to cost as much money because it won't be that bad," rising sophomore Brandon Shigematsu said.