This is an archived article and the information in the article may be outdated. Please look at the time stamp on the story to see when it was last updated.
SACRAMENTO-
Jen Gamble has three bosses - her children.
Between the kids, chores and whatever else life throws at her, Gamble admits she could use a little help.
"I suddenly realized I was supposed to be in two places at the same time and have my kids with me," Gamble said.
That's where a new app called NannyMe comes in.
"It's very similar to the app Uber but instead of requesting rides you actually request sitters," Annie Randle, co-creator of NannyMe app said.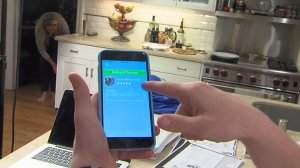 The creators were once sitters themselves and took their early job experience and turned it into some real cash.
"We're brother and sister and our dad owns his own business and so we've kinda grown up with him as our role model and it's just always been a dream of ours," Randle said.
With just a tap, parents can find, book and pay a sitter within minutes.
"How many times have I raced home for a babysitter looked in my purse to realize I have no cash, I don't know where my checkbook is, I've spent 10 minutes looking up and down trying to assort together the finances to pay the babysitter and this was so easy." Gamble said.
The teens behind Nanny Me are students at St. Francis and Jesuit high schools in Sacramento. The sitters are fellow classmates. They are all trained, pre-screened and CPR certified.
"We're all really good friends and we know them personally, so we picked out these nannies specifically because they're great," Randle told FOX40. "They all have an above 3.5 GPA, they are very well rounded, great with kids, have past experience."
They say NannyMe is different from any other nanny referral agencies.
"Really what you're paying for here is the reliability, the convenience and the quick service of having a nanny at your door," app co-creator Jake Randle said.
"We want to eventually bring into an in-house screening, where we'll all go or one of us will go and say, 'O.K., we'll sit down with the family, meet them,'" co-creator Christian Burnahm said.
The teens say the app has taken off. About 60 sitters and 20 families have signed up so far. A good start for these budding entrepreneurs and, for Gamble, it has been a dream come true.
"I think once parents understand how easy it is to work with, it's going to be a lifesaver," Gamble said. "I know its gonna be a life saver for me."
NannyMe is available for free through the iTunes app store or Google Play.