This is an archived article and the information in the article may be outdated. Please look at the time stamp on the story to see when it was last updated.
LODI — Two people, including a 17-year-old, were arrested in connection to a deadly shooting in Lodi.
Rodrigo Ignacio's sister spoke to FOX40 back in May after her 23-year-old brother was shot and killed in front of her home on North Sacramento Street. She described watching three men in all black clothing shoot toward her house.
"I just think he was at the wrong place at the wrong time," said Isabel Ignacio. "Three guys came up and asked him if he banged and he doesn't. He was trying to tell them, 'No, we don't. My little brother and sisters are here. Not here. Not here.' And they shot him."
A 20-year-old man was also hit by the gunfire and sustained a non-life threatening wound, according to the Lodi Police Department.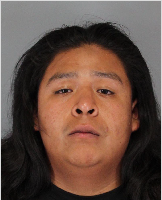 On Tuesday, Lodi detectives investigating Ignacio's death arrived at East Locust Street, where they arrested 19-year-old Andres Hernandez on suspicion of murder and attempted murder. Lodi police also say a 17-year-old boy was taken into custody at San Joaquin County Juvenile Hall and faces the same charges.
Police are still investigating the case.