This is an archived article and the information in the article may be outdated. Please look at the time stamp on the story to see when it was last updated.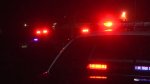 FAIRFIELD-
Four vehicles were involved in a major crash Monday morning along westbound I-80, near Travis AFB, in Fairfield.
According to the CHP, one vehicle was unrecognizable after the collision. Three of the four lanes on that section of I-80 are going to be blocked for a few hours, officers said.
The CHP said there were injuries from the wreck, but their severity is unknown.