This is an archived article and the information in the article may be outdated. Please look at the time stamp on the story to see when it was last updated.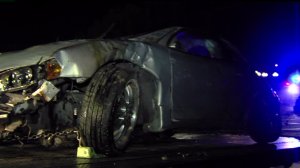 STOCKTON –
A PG&E dump truck carrying sand collided with a sedan in Stockton early Wednesday, sending it flying off Highway 99 and onto a side road.
All of southbound Highway 99 near French Camp Road in Stockton was closed as crews cleared the sand after the truck overturned early Wednesday morning.
The truck was carrying about five yards of sand, with most of it scattered across the roadway during the crash.
All lanes are now clear.
No one was injured.