This is an archived article and the information in the article may be outdated. Please look at the time stamp on the story to see when it was last updated.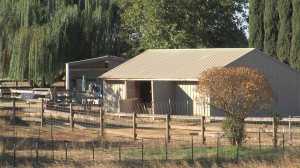 ELK GROVE–
After trying to put some pigs down, a 31-year-old man accidentally shot his 27-year-old brother in the face, Elk Grove Police say.
The accidental shooting happened around 6:24 a.m. Saturday near Kinder Lane and Calvine Road during a family event. Apparently, when trying to put down a pig for the event, the pig jerked after being shot and caused the rife to slide backwards and go off a second time.
The 27-year-old was hit in the face and was sent to the hospital in critical condition. The gun is said to be a .22 caliber rifle.
About a dozen people were at the event and saw the shooting, police told FOX40.