This is an archived article and the information in the article may be outdated. Please look at the time stamp on the story to see when it was last updated.
SACRAMENTO — An 18-year-old man has been arrested for the deadly attack that happened Wednesday morning on the track at Highlands High School.
The Sacramento County Sheriff's Department arrested 18-year-old Neven Glen Butler for an unrelated assault on an elderly person on Fair Oaks Boulevard. Soon after, he was identified as a person of interest in the Highlands High School assault.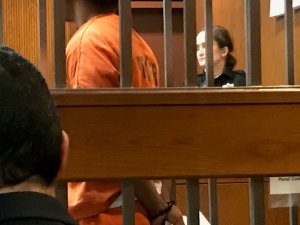 Late Thursday, he was formally arrested for Wednesday's attack.
According to detectives, Butler sexually assaulted a 61-year-old woman on the track. When the woman's friend, later identified as 86-year-old Fusako Petrus tried to fight off Butler, Butler then attacked her.
Butler appeared in court Friday afternoon for the Fair Oaks assault and faced felony charges of assault with intent to commit rape and elder abuse. He will be arraigned on the new charges on Monday.
The Twin Rivers School District Released the following statement: 
We are relieved and grateful that authorities have a person of interest in custody. At the same time, we are shocked to learn that the individual is a Twin Rivers dropout who last attended classes in December 2016.
Our immediate concern is with the victims and their families. They face a long road of grieving and will need the support of the entire community. We know you join us in keeping them in our thoughts and prayers.
Butler attended Highlands High School
Those who knew the 18-year-old called him polite and were shocked by the charges against him.
A North Highlands mom, whose son was Butler's former football teammate, told FOX40 that she used to give him rides home from school. Only months ago, the woman says she wouldn't have seen the teen as someone worth worrying over.
"Generally, I can tell the boys that I'm scared of," she said. "You know, because they're bigger now and, you know, you can tell which one kind of gives you that eye, or stares at you differently, or what have you. And he never did that with me."
When FOX40 requested an interview with Butler at the Sacramento County Jail, the sheriff's deputy said he was not in the right state of mind and that the jail made the decision not to let him be available for interviews until he's better.