This is an archived article and the information in the article may be outdated. Please look at the time stamp on the story to see when it was last updated.
STOCKTON-
In the days following a deadly bank robbery and chase, Stockton Police faced some backlash over whether or not they acted appropriately but one man has created a Facebook page letting officers know that the city is behind them.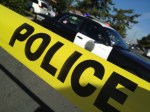 "My intention is to show Stockton PD there are people out there to support them," the page's creator said, speaking under the condition of anonymity. "They are doing a good job and the community is behind them."
The man's "Stockton Police Department Support Page" on Facebook had already gained more than 3,200 "likes" by Monday night.
He told FOX40 he wants to buck the stereotype that Stockton is a dangerous place to live.