This is an archived article and the information in the article may be outdated. Please look at the time stamp on the story to see when it was last updated.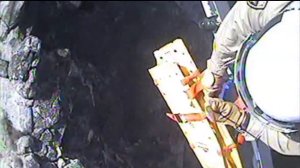 EL DORADO –
"He stated he had fallen approximately 50 feet, landed on a small ledge, and then fell another 50 feet before his rope held him completely in place," said CHP Flight Officer Matt Calcutt.
The tumble sounds like a technical difficulty. But the 20-year-old is an experienced rock climber.
"His climbing partner and he were able to get him back to the top of the cliff," Calcutt said.
But they weren't out of the clear.
"It sounded like it was some of the worst pains he's ever had. It's extreme mountainous terrain," Calcutt said.
This accident at Lover's Leap was one of four local hoist rescues in a 30-hour period.
"We tend to get real busy this time of year with all sorts of accidents," said Calcutt.
CHP flight paramedics have been so busy, they flew in reinforcements: a Bay Area crew that helped hoisted another hiker to a hospital. They aren't the only familiar faces Officer Calcutt sees from day to day.
"In the medical profession some of the questions we ask are trying to determine their level of consciousness rates compared to a normal day," Calcutt said.
One of the questions he asked the young rock climber he just saved? Where do you work?
"It turned out to be he was our server the night before with my wife and me at dinner. Small world," Calcutt said.