This is an archived article and the information in the article may be outdated. Please look at the time stamp on the story to see when it was last updated.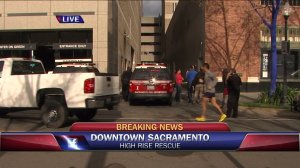 SACRAMENTO—
Officials aren't sure how a man found dangling outside a building near 12th and K streets died.
At some point Monday morning, the man looks like he tied a rope around himself. However, it looks like he knew how to hang himself, as he was tied in seated position like a rappeller. He tied the rope off with a window washing anchor, and fire officials believe that that anchor could have held his weight.
Fire officials do not believe that he was a window washer.
Around 7:45 a.m., someone from another building reported seeing the man hanging from the building. Recovery crews soon reached the man, took him down, and confirmed that he was dead.
The man was at least nine stories above the ground.
12th Street has since been reopened.
Eric Rucker contributed to this report.