This is an archived article and the information in the article may be outdated. Please look at the time stamp on the story to see when it was last updated.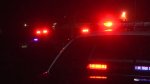 SACRAMENTO-
After pleading guilty to a second degree murder charge in July, 22-year-old Angelo Wright was sentenced to 16 years to life in prison for stabbing his mother to death.
Wright admitted to using a hunting knife in the 2011 killing of his mother, Lisa Marie Barber.
Investigators say Wright and Barber had been estranged for years and reunited not long before the murder. She reportedly suspected Wright of stealing her jewelry and told a friend that she planned on confronting him about it.
Barber was found a short time later with stab wounds to her neck and back.
Prosecutors say Barber's last words were, "Help me, my son tried to kill me."
Wright turned himself in a day and a half later. He pleaded guilty to a murder charge in July 2013, and was sentenced Tuesday.