This is an archived article and the information in the article may be outdated. Please look at the time stamp on the story to see when it was last updated.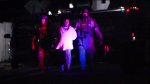 SACRAMENTO-
A man barricaded in a south Sacramento home finally gave up after a six-hour standoff with Sheriff's deputies Thursday night.
SWAT officers used flash bang grenades and tear gas to try to get the man out of the home near 53rd Avenue and Burdett Way.