This is an archived article and the information in the article may be outdated. Please look at the time stamp on the story to see when it was last updated.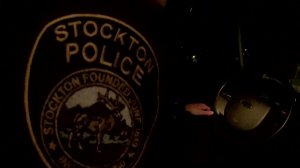 STOCKTON—
Police in Stockton say that a man is recovering after being hit in the head with an axe.
The incident happened just after 5 a.m. Sunday at an unspecified address along Don Avenue.
According to Stockton Police, an argument preceded the axe attack. After being hit in the head with the axe, the man tried walking away from the scene, only to hear someone shooting at him.
The man says that he heard at around four to five gunshots.
Eventually, the man was taken to a local hospital. He is said to be suffering from only non-life threatening injuries.
The suspect is said to be still outstanding.