This is an archived article and the information in the article may be outdated. Please look at the time stamp on the story to see when it was last updated.
SACRAMENTO-
Hunter Davis is clinging to life at UC Davis Medical Center after a 17-year-old allegedly shot him in the head in Manteca last Sunday.
A source close to the family tells FOX40, Davis' family may decide whether or not to take him off life support Friday, as doctors determine if he will regain brain function.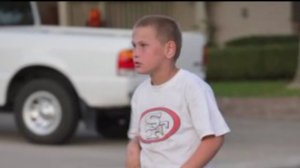 The Manteca Police Department says if Davis, 11, does not make it, charges against the alleged shooter, Zak Hurlburt will be upgraded from attempted homicide to murder.
The shooting happened inside a home on Glen Drive early Sunday morning.  A teenager who lives at the home  told FOX40 a few friends were sleeping over Saturday night, they were drinking and Hurlburt picked up a loaded gun and pulled the trigger.
One bullet struck Davis' older brother, Raymond, in the arm. The second hit Davis in the head.  Investigators do not believe it was accidental.
Members of the Central Valley Baptist Church in Manteca are praying for Hunter's recovery.
"We just want to be a blessing and a help to the family in any way we can," Pastor Kristian Martinez said.
"He was always excited, he always jumped on the bus and enjoyed being around everybody," said Thomas Perez, a boy who rode the bus to church with Davis every week.
Perez said the church became like home for Davis after his family lost their home in Manteca.  Friends say school seemed to be his safe haven.
"You can just tell that he was trying to make things better for himself," Perez said.
Manteca police say they recovered a gun from the home on Sunday, but investigators are still piecing together who it belonged to, and why it was accessible to teenagers in the first place.
Police say Hurlburt will likely be charged as an adult.