This is an archived article and the information in the article may be outdated. Please look at the time stamp on the story to see when it was last updated.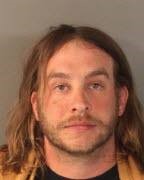 AUBURN — A masked man was arrested Thursday after it was found that he had been damaging passing cars using a BB gun and slingshot.
Several vehicles traveling down Nevada Street had reportedly been hit by BBs and flying rocks, according to Sgt. Chris Forman.
On Thursday around 11:43 p.m., while officials responded to another call about a damaged car, an officer spotted Clifford Eisley, masked and hiding in the shadows of a landscaped area.
Eisley ran from officers and was later found in a home after an aircraft and additional deputies helped patrol the area.
Eisley faces felony charges of projecting an item capable of doing serious bodily harm at vehicles and vandalism. He is also charged on suspicion of resisting arrest. He was booked into the Placer County Jail with a $25,000 bail.