This is an archived article and the information in the article may be outdated. Please look at the time stamp on the story to see when it was last updated.
A huge, 2-alarm fire was reported Thursday evening on 14th and E streets in downtown Sacramento.
Neighboring businesses and homes were evacuated, according to fire crews.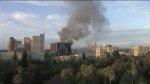 Firefighters believe cars may be inside the building. Crews are working to prevent the flames from spreading to nearby Victorian homes.
A collection of vintage cars is believed to be inside the privately-owned building.
No one was reported to have been hurt as of 7 p.m.
Firefighters did not say how they think the fire started.
Investigators say the fire is suspicious. Anyone with information is asked to contact the Arson Tipline (916) 808-8732.
#Fire is looking much more under control now. #news #breaking #sac @FOX40 pic.twitter.com/DcFjBHplhK

— Darren McQuade (@BreakinNewsBoy) April 4, 2014