This is an archived article and the information in the article may be outdated. Please look at the time stamp on the story to see when it was last updated.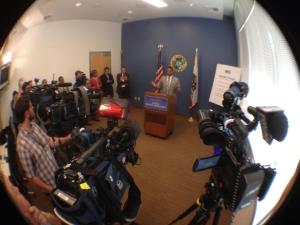 SACRAMENTO-
Sacramento Mayor Kevin Johnson remains confident the Kings will stay in Sacramento, he said at his regular Tuesday press briefing.
"I expect that we will win, and we will be able to keep our team," Johnson said.
At the same time the mayor said he is not gloating about what he considers the likely outcome of the NBA Board of Governor's meeting in Dallas on May 15, the meeting that is set to decide the ultimate fate of the Kings franchise. While Johnson said he expects the BOG to choose between Sacramento and Seattle that day, he notes, "I am sure there 101 things that could go wrong, or slow things up."
The mayor did not appear concerned about the possible scenario, floated by some observers, that the Hansen/Ballmer purchase group from Seattle might be able to buy the team and continue to play in Sacramento for a period of time while they plan their get-away to the northwest.
"I don't think that's likely. It's not a scenario we're preparing for," the mayor said.
Johnson also suggested, in a subtle manner, the Seattle group should realize the Kings will stay in Sacramento, and it's time for them to make other plans. Noting the unanimous vote by the NBA Relocation Committee to not allow the Kings to move to Seattle, Johnson talked about what he would do if he were in Seattle's situation.
"Once the Relocation Committee spoke as loud and clear as it did, I would probably take a step back and understand I am probably not going to get this team, so how can I put Seattle in the best possible position to get a team going forward. I would take the high road, and I would be gracious," Johnson said.
Mayor Johnson indicated he will attend the NBA meeting in Dallas next week, but said he isn't sure what his role will be, although he will be ready for anything, joking, "If I have to do a Sacramento cheer, I am ready to do that."