This is an archived article and the information in the article may be outdated. Please look at the time stamp on the story to see when it was last updated.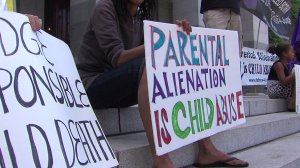 SACRAMENTO-
This Father's Day, there are some Dad's who don't want a new tie or a cold beer, but simply a chance to be a parent.
Call it 'Occupy Family Court' or 'Fatherless Day.' There was a protest Friday afternoon on the west steps of the State Capitol against a family court system they say automatically rules in favor of mom during a divorce, without giving dad a chance.
"From a biased family law system and the pain that father's go through, many fathers have to go through Father's Day without actually seeing their own children," said Fred Hayward.
Divorce is messy and the impact on the kids can be permanent, and the father's protesting Friday said if the custody is shared equally the damage can be minimized.
"Typically the father has to pay child support and never sees his kids except every other weekend and the children suffer," said Jeremy LeRoux.