This is an archived article and the information in the article may be outdated. Please look at the time stamp on the story to see when it was last updated.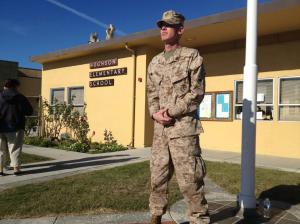 HUGHSON-
A Marine standing guard outside a Hughson school appears to have only served for less than a year, and was a Private First Class when he discharged.
Craig Pusley started standing outside Hughson Elementary this week in full uniform. He said he is a staff sergeant and he had told other media outlets he did tours overseas.
However, FOX40 has been checking with the military after receiving a call questioning Pusley's service.
According to the United States Marine Corps, Pusley served from July 2007 to April 2008, and reported to the training center in San Diego. According to their records, this is his only command or duty station listed in his file.
Their records indicate he was discharged, and is not on reserve at this time. When he left service, he achieved the rank of Private First Class.
The military file does not indicate why he was discharged.
Pusley's presence at Hughson Elementary School was calming to children and parents in the wake of the deadly shooting in Newtown, Connecticut. Students thanked Pusley Wednesday during their lunch break.