This is an archived article and the information in the article may be outdated. Please look at the time stamp on the story to see when it was last updated.
SACRAMENTO-
Police said Thursday night that seven siblings reported missing out of Fresno were found safe in Sacramento with their biological father.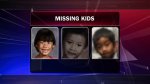 The Yang siblings, Chee Nou, Cha Meng, Zia, Chue Feng, Zang, Tria and Tou Ger, went missing Feb. 23.
Police say their mother and step-father left them at home to go grocery shopping and had the eldest child, 12-year-old Chee Nou, to look after everyone else.
When the kids' parents returned, they were all gone. Investigators say all the kids' clothing was missing, too.
The kids were found with their biological father, Xa Yang. Yang lives in Sacramento and has been estranged from the family for several years.