This is an archived article and the information in the article may be outdated. Please look at the time stamp on the story to see when it was last updated.
ELK GROVE-
The car belonging to missing pregnant woman Aubrey Andrews has been located, and officers say they found the body of an adult woman inside. At this time, investigators cannot confirm if the body inside the car is that of Andrews.
UPDATE: Body found inside car identified as Aubrey Andrews
"There were no obvious signs of foul play, but we are not ruling anything out," Officer Justin Brown with Sacramento Police told FOX40.
MORE: Husband, Neighbors Hold Out Hope for Aubrey Andrews
Aubrey, who is 9 months pregnant, was reported missing more than a week ago by her husband. She was last seen December 6.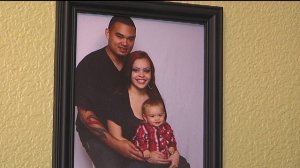 Late Monday night, Elk Grove Police found her Prius in the Walmart parking lot along Elk Grove Boulevard. The body of a woman was found inside, and officers released a short statement saying there does not appear to be signs of foul play, but would not comment further on the condition of the body or whether they believe it is Aubrey.
Aubrey left without her 3-year-old son, and according to her husband, Edward, she didn't take any personal items. Edward told FOX40, the day after she went missing, Aubrey's purse containing notebooks was left on the couple's doorstep.
Monday, FOX40 uncovered ongoing trouble in Aubrey and Edward's relationship. She filed a restraining order in January after the two had a fight, and Edward allegedly pushed her then threw her to the ground. Then in May, Aubrey filed for divorce, then canceled it.
The woman's body from inside the car is now being examined and her identity is being confirmed. FOX40 will update this story as more information is released.