This is an archived article and the information in the article may be outdated. Please look at the time stamp on the story to see when it was last updated.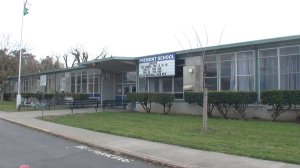 MODESTO-
A mother of a Fremont School 5th grader says a classmate has threatened to kill a number of her classmates.
Bernita McKinney says her daughter Desiree told her about the a "kill list" created by a 4th grader in her combined 4th and 5th grade class.
McKinney says she confirmed it with a staff member, although principal would not say if such a list existed and that her daughter was on it.  Several students in the class also told FOX40 that the "kill list" was created by the student.
The Modesto City School District confirmed in a statement that an investigation was underway and that the police have been notified.  But that statement did not say if a list was involved.  It only said it did not believe anyone was in danger.
McKinney said she and other parents should have been notified rather than hearing it from the children.  She said her daughter has had violent run ins with the 4th grader on other occasions but that this incident raises a big red flag given recent incidents of school violence.
"We've had two previous incidents with this same child that wrote this list so I was obviously very alarmed and concerned," said McKinney.
Parents FOX40 talked with were astonished that the school did not notify parents, even if the principal said she had legal reasons for not revealing exactly what happened.
"I'm surprised that I found out from you just now.  I should have known earlier.  It's disappointing," said Tisha Hughes who was picking up her 6th grade son.
A note from the principal was sent home by the school on Friday, two days after the incident occurred.  It only mentions an incident under investigation and that police have been notified.  It also says the school doesn't believe anyone is in danger which means school officials don't believe the girl has the means or the intent to harm others.
Some students said the written threat said the girl's mother would kill 5th graders in the class.
The note didn't come soon enough for some parents when told of the incident.
"The safety of my child is my first priority and I need to know immediately, I'm a parent," said Hughes.
Fred Hughes was picking up his second grade son.  He was also taken by surprise.
"Absolutely I was surprised.  Everybody should be notified about something of that caliber," said Hughes.
The note was too vague for many parents.
"I don't know what that means," said Hughes after reading the notice saying it lacked any detail.
The school did not say if the girl was suspended, but students say she has not been in class since the list was found.  But they did say she was on campus and perhaps being kept away from classmates.