This is an archived article and the information in the article may be outdated. Please look at the time stamp on the story to see when it was last updated.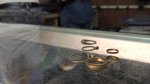 MODESTO-
Modesto Police are trying to determine if a crime was committed when city workers sold jewelry found in city sewers.
The scheme came to light after routine checks of jewelry purchased by gold and coin dealers.
Employees at Modesto Gold, Jewelry and Coin say workers wearing city uniforms routinely sold the tarnished and eroded jewelry to them as scrap.  Police say it was worth as much as $2,500.
The question is who does the found treasure belong to? Claude Sutherland, the owner of the store, says finders keepers.
"No crime was committed, I don't think they did anything wrong," said Sutherland.
Police are investigating but they don't know if a crime was committed either. The city manager's office was reviewing its policy.  Normally when city employees find something of value, an effort is made to return it to the owners.
But the jewelry, mostly rings, are in such bad shape from chemicals in the sewer system that identifying them is virtually impossible.
One city resident says the nasty job deserves some perks.
"If I had a job like that I'd like to be able to keep what I found," said Jeff Hanawalt.
Sutherland says as an employer he has no claim over anything his employees find.
"Just because the work for me I should get it?  I don't believe in that philosophy. I would say they found it, good for them," said Sutherland.
Police aren't so sure. Their investigation which began earlier this year will conclude soon, but thus far they have not confiscated the jewelry purchased from the city workers.