This is an archived article and the information in the article may be outdated. Please look at the time stamp on the story to see when it was last updated.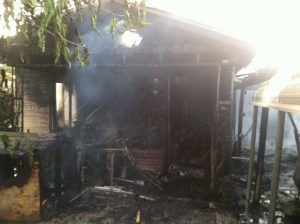 MODESTO-
A house in Modesto caught fire early Sunday morning, causing a fire to spread to two other homes.
According to the Modesto Regional Fire Authority, firefighters arrived at 816 Kerr Avenue in the Airport district of Modesto to find the home encompassed in fire, and the fire was expanding south into a neighboring home.
The fire also spread north into the opposite neighbor's home. In all, 3 homes were damaged by the fire and 1 was a total loss. One neighboring home suffered moderate damage and the other was lightly burned along its side.
The home at 816 Kerr Ave had people inside at the time of the fire, and everyone was able to escape without getting hurt. Unfortunately, several dogs died inside the fire and the home was severely damaged.
No firefighters were hurt when extinguishing it, and the cause is still under investigation. The damage is estimated at $100,000.
Greg Cotta filed this report.