This is an archived article and the information in the article may be outdated. Please look at the time stamp on the story to see when it was last updated.
SACRAMENTO — Reporters were able to tour the Golden 1 Center a week before its grand opening.
Here are some highlights: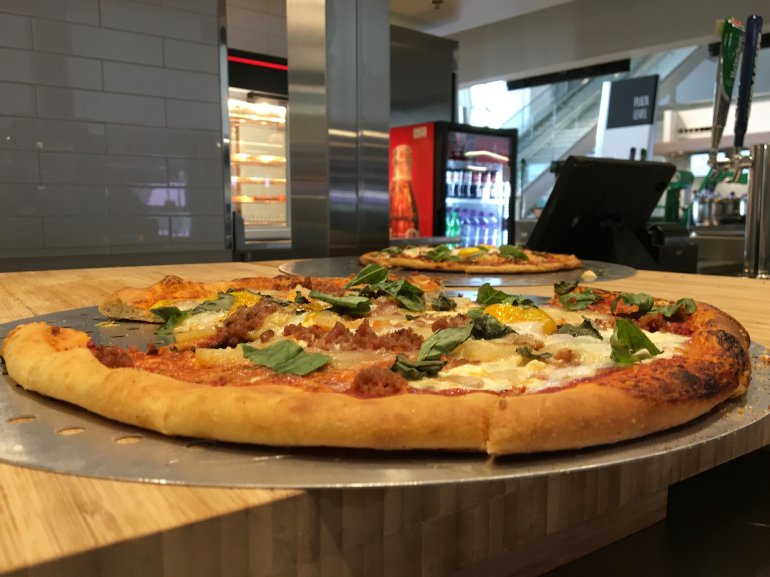 FARM TO CONCOURSE
Ninety percent of the ingredients used to make the food at the Golden 1 Center come from within 150 miles of Sacramento. Michael Tuohy, local chef and head of the arena's food program, said that even includes things fans wouldn't think of, like olive oil.
Even the hot dogs (what sporting event is complete without a hot dog), are made by Schwarz Sausage Company in Fairfield. They will also pack the Low Brau sausages, since the actual Low Brau kitchen is far too small to supply an arena.
That ninety percent includes beverages, too. Northern California is not only known for its wine, but its ever-growing craft beer scene. Even the spirits going into the cocktails are local.
Tuohy noted that the arena has a green waste program that, without getting deep into the science of it, involves giant food "digesters" that treat the waste and send it back to local farms, which would, in turn, yield a better harvest.
As far as pricing is concerned, Tuohy and his team say they looked at concessions pricing at other arenas and stadiums, like Levi's Stadium and Oracle Arena, to determine what they will charge fans. Tuohy says the Golden 1 Center's food prices will be on the "higher end of the middle" of that spectrum.
Local restaurants featured on the concourse include Tuohy's own Block Butcher Bar and Low Brau, as well as Cafe Bernardo, Centro, Mikuni Shushi, Paragary's and Mulvaney's.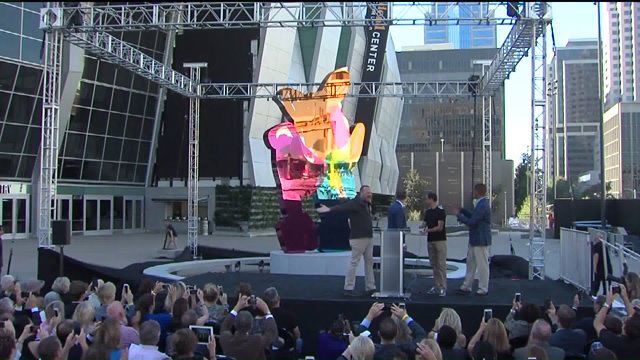 THAT KOONS SCULPTURE
Kings owner Vivek Ranadive loves that giant Jeff Koons "Coloring Book" sculpture sitting off to the side of the arena's grand entrance.
"There's one in London, there's one in Paris. Now, there's one in Sacramento," Ranadive said.
"Coloring Book" is part of Koons' "Celebration" series.
The $8 million sculpture isn't the only art outside the arena. There are also works from local artist Gale Hart. Her piece, "Missing the Mark," is a series of giant darts and none of them are anywhere near a big bullseye on the sidewalk.
You can read more about the art outside the area here.
The Sierra Nevada Draught House, which sits in the upper level and is available to anyone with a ticket, will offer a special beer brewed by Sierra for the arena: Proud Ale (Ed. note: Like "Sacramento Proud," get it?). The Sierra reps say it's a blonde ale with some citrusy notes. It will also be available in some Sacramento-area markets.
ARENA 3.0
Ranadive spoke at length about his vision for "Civilization 3.0" and how it relates to this arena.
Civilization 1.0, he said, was the birth of modern civilization. Cities, roads and whatnot.
Civilization 2.0 was the Industrial Revolution. The age of steel and factories.
That brings us to Civilization 3.0. The age of information, Ranadive says.
Ranadive says the new Golden 1 Center app is essentially a fans' remote control for the arena. Fans can check traffic (there will be a lot of traffic), order an Uber, buy Kings merch or order concessions from their phone.
"They've built arenas the same way for a thousand years, since the Colosseum," he said. "Instead of you checking into the arena, the arena should check into you."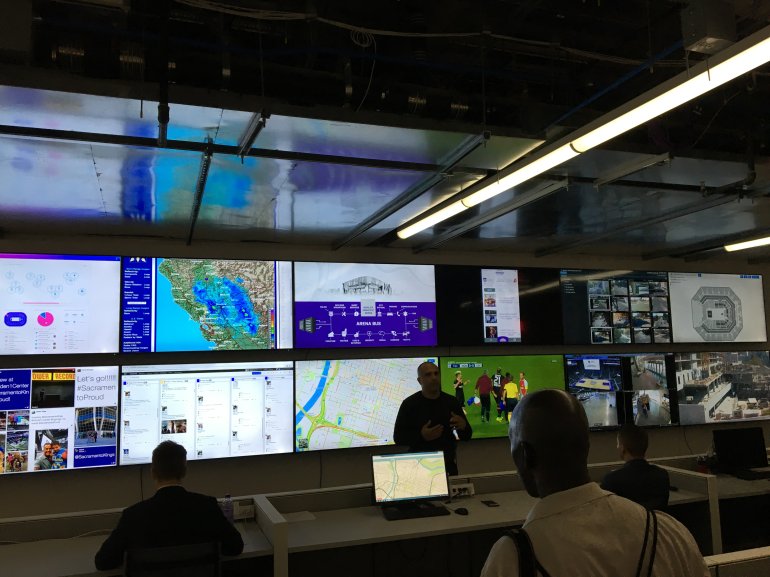 Later, our tour group learned he meant that sort of literally. Fans who us the app and chose to "opt in" will have their arena track things like their food preferences or which players they like.
"Say it's Jenny's birthday," team Chief Technology Officer Ryan Montoya said, referencing a made up fan they've named Jenny Jetson. "Maybe Jenny will get a free Diet Coke at concessions."
Again, Montoya stressed this is only for fans who opt in.
"This arena has more code than concrete," Montoya said.
The data center includes staffers who monitor weather, traffic, social media and the app. There is also a Sacramento Police officer monitoring surveillance cameras inside and outside the building.
Across the hall from the data center is the 4K broadcast control room, which routes signals into monitors around the arena and the unbelievably huge 4K scoreboard. 4K resolution is about four-times better than standard high definition. The cameras all around the building also shoot in 4K.
The Kings will also broadcast every game this season in virtual reality, Montoya said.
Speaking of the scoreboard, it was so big that crews had to build it inside the arena. It wasn't going to fit through any doors.
With all this tech and hundreds of screens and that massive scoreboard, the arena is still able to be completely solar powered. The panels on the building's roof account for about 15 percent of its power. A solar array about 50 miles out of town handles the rest.
Climate control was also brought up. For the Golden 1 Center, heating and air conditioning vents are under the seats. Kings executives say it's inefficient to heat or cool a whole building when they can just control the temperature where the fans actually are.
Another thing of note: many of the bathrooms are gender-neutral.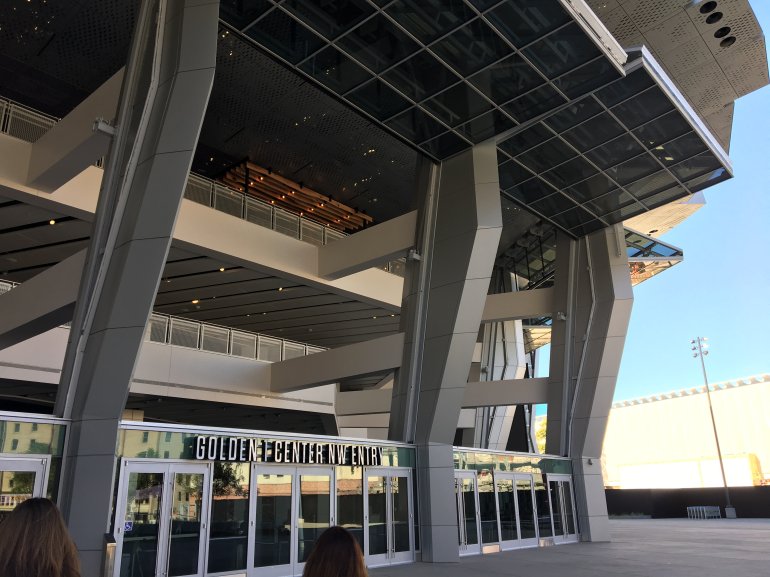 THOSE GIANT, SWINGING WINDOWS
When reporters arrived Tuesday morning, those giant, swinging windows were open. It got to be a little warm later in the day, but the Delta Breeze is definitely going to feel great coming through those. Kings President Chris Granger says the team is still negotiating with the NBA about when they can be open. Right now, the Golden 1 Center is the only arena with anything like this so the league doesn't have any rules on it yet.
The Golden 1 Center opens Tuesday, Oct. 4, when Paul McCartney plays his first of two sold out shows. The Kings' regular season opener will be on Oct. 27.