This is an archived article and the information in the article may be outdated. Please look at the time stamp on the story to see when it was last updated.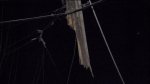 CITRUS HEIGHTS-
A power pole in Citrus Heights is dangling by its lines after an accident Tuesday morning.
The pole is on Mariposa Avenue near Twin Oaks Avenue.
Crews are working through the morning to repair the pole and restore power to the neighborhood.