This is an archived article and the information in the article may be outdated. Please look at the time stamp on the story to see when it was last updated.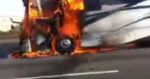 LATHROP-
Traffic along northbound Interstate 5 near Lathrop was slowed Tuesday after a motor home caught fire, the CHP said.
Highway Patrol says the fire was first reported around 2:22 p.m., near the Louise Avenue offramp.
No one was reported to have been hurt.
Traffic in the area was condensed to one lane around the burning vehicle.