This is an archived article and the information in the article may be outdated. Please look at the time stamp on the story to see when it was last updated.
MOUNTAIN RANCH -- Search and rescue teams are looking for a small airplane that was reported missing Saturday in the Mountain Ranch area.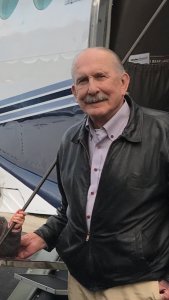 The plane and its pilot, 75-year-old Leroy Del Don, left the town of Wesley in Stanislaus County Friday afternoon and was due to land at the Columbia Airport in Tuolumne County a short time later.
Del Don, a farmer from Patterson, and his wife were planning on taking items to their cabin in Pinecrest, according to Del Don's daughter. His wife drove and he chose to fly.
Del Don never made it.
The plane is described as a 1967 Beechcraft Baron, a beige twin engine propeller plane with orange and brown striping. Its tail number is N3717A.
Del Don's daughter says her father loved to fly.
"It was one of his favorite things to do, so if he did pass I'm happy he passed doing that," she told FOX40.
Anyone with information about Del Don and his plane is asked to contact the Calaveras County Sheriff's Office at (209) 754-6500.