This is an archived article and the information in the article may be outdated. Please look at the time stamp on the story to see when it was last updated.
GRANITE BAY --
More than two decades after a school teacher in Granite Bay was found strangled to death inside her van, detectives said advances in forensic technology could help solve the case.
Cherilyn Hawkley disappeared from Eureka Elementary School, where she worked, on the evening of Oct. 29, 1993. Two days later, her partially clothed body was found in the backseat of her Dodge Caravan, less than a mile from where she taught fifth grade.
At the time, investigators told FOX40 a stranger could have killed her.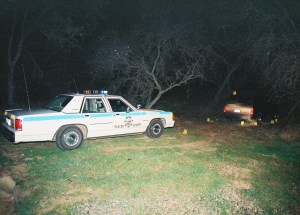 Twenty-two years later, Hawkley's murderer remains a mystery. But Placer County Sheriff's Office detectives Bryan Mattison and Chris Joyce said they have a new theory driving the investigation.
"All signs point to the fact, that she likely knew her assailant," said Joyce.
Old forensic evidence found in the van, including a ligature, are being retested with new forensic technology.
"Usually the suspect has already been interviewed," said Mattison. "They are somewhere in the binder you have. That name has already come up somewhere. You just have to kind of narrow it down."
The location where Cherilyn was found on East Roseville Parkway just off Elmhurst Drive, is also being looked again. Detectives said this spot was within sight of another school, Oakhills Elementary.
"To have the body found so close to where she was last seen, tells you that the total crime scene is contained within that 0.8 miles," said Mattison. "She probably didn't make it past that."
As detectives wait for forensic evidence results to get back from the lab, they said they are interviewing family, friends and old witnesses in the case.
For friends of Hawkley, the tragedy of what happened still brings up strong emotions.
"Somebody has got to know something," said Sarah Mason, one of Hawkley's friends since high school. "And I hope that they feel guilty enough to call it in. You would hope right? That's my goal."
After Hawkley's murder, her two daughters stayed with Mason from time to time, and the three have never lost touch. Hawkley also has a son, who still calls California home.
Anyone with information on this case is urged to contact the Placer County Sheriff's Office at (530) 889-7854. Anyone with information but wishing to remain anonymous should contact Placer County Crime Stoppers at (800) 923-8191 or online at tips.placercrimestoppers.com. Any tips that lead to an arrest are eligible for a cash reward of up to $1,000.