This is an archived article and the information in the article may be outdated. Please look at the time stamp on the story to see when it was last updated.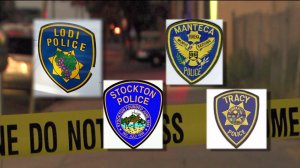 STOCKTON — When AB 109, or the prison realignment bill, passed in March 2011 it meant nearly 40,000 inmates were released to county jails to bring the prison population down. However, the county jails were heavily populated too, which means offenders of non-serious, non-violent crimes were released early.
The early release combined with an already existing crime issue means San Joaquin County has been hit harder than most.
"The causes of crime vary; economy, foreclosures, unemployment," explained Lodi Police Chief Mark Helms, "Since realignment took effect, the city of Lodi, our crimes have increased 19%, but can't attribute all that to realignment."
Though Helms does think realignment has had some impact, so he decided to do something about it.
The county received money from the state for realignment, it wasn't enough to help individual police departments but it could work if they pulled together. Helms reached out to the different police departments in the county to form a Community Corrections Partnership Task Force.
"Our budgets have been slashed. Our staffing has been slashed. We have to work together as a region," he said.
The police departments of Lodi, Stockton, Manteca, and Tracy will be working together, but the task force doesn't end there. The task force will also include probation, the courts, mental health, judges, probation, and parole.
Stockton Police Chief Eric Jones said the task force will specifically target the early release inmates with two different methods; prevention and enforcement.
"Handcuffs aren't the only tool on our tool belt. Certainly it's necessary," Jones added, "A large part will be going out and arresting those who have reoffended or failed to report, however we also want to do compliance checks to ensure (the inmates) are on the right track so we don't have to use the handcuffs."
Jones said one of the big problems is offenders not showing up to court dates or program, because even if they're charged there's nowhere to hold them.
That would change when the task force started.
"We have to ensure there are some teeth, because the absconding rate has a lot to do with the fact they realize there are no consequences," said Jones, "If there are no consequences I can continue to do the same behavior. If they reoffend and rearrested we will incarcerate them in jail."
The Community Corrections Partnership Task Force will begin January 1, 2013. It will start with data research to see who are the high risk offenders, once they've been identified the enforcement and prevention portion will begin.