This is an archived article and the information in the article may be outdated. Please look at the time stamp on the story to see when it was last updated.
STOCKTON -- Police are actively searching for a suspect involved in a shooting at a Wingstop in Weston Ranch.
The Stockton Police Department was on the scene of an officer-involved shooting that resulted from a robbery at the Wingstop on 520 Carolyn Weston Blvd A at around 8:54 p.m. Friday.
When officers arrived at the restaurant they encountered three male suspects, one armed with a shotgun, according to the Stockton Police Department.
2suspects listed as critical but stable, 1 onthe loose, part of an abandoned rifle visible on the ground. @FOX40 pic.twitter.com/umsdVInDYz

— Sonseeahray Tonsall (@tonsalltv) November 19, 2016
Stockton Police officers Ben Ratzlaff and Ryan Ogburn shot at the suspects, injuring Joe Ortiz, 18, and Serrill Galloway, 19. One of the suspects, between 18 and 25 years old and wearing a hoodie during the time of the incident, was able to flee on foot in the direction of Interstate 5.
The 12-gauge shotgun, with an extended magazine, and an undisclosed amount of money were discovered by authorities in the parking lot of the Wingstop. The shotgun was registered to Galloway.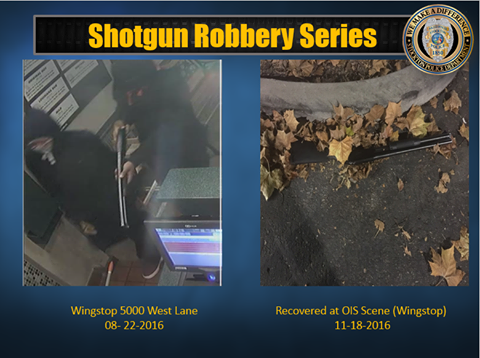 The Stockton Police Department reports that the incident is the result of a four to five month long investigation involving multiple businesses in the area that were allegedly robbed at gunpoint.
The two suspects who were shot by police were rushed to local hospitals, both in critical but stable condition. Ortiz has been taken to UC Davis Medical Center for further treatment. Ortiz and Galloway will be booked into the San Joaquin County Jail once they have recovered from their injuries.
The officers that arrived on scene were not injured and no victims were reported.
Officers Ratzlaff and Ogburn have been placed on three day, paid administrative leave.
The Stockton Police Department is encouraging citizens to call if they have information pertaining to this investigation. Callers are asked to call the Stockton Police Department at (209) 937-8377, the Investigations Unit at (209) 937-8323, or Crime Stoppers at (209) 946-0600. Callers can remain anonymous.