This is an archived article and the information in the article may be outdated. Please look at the time stamp on the story to see when it was last updated.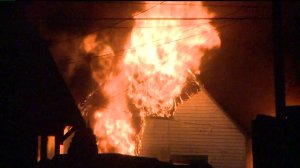 HOQUIAM, Washington-
A man wanted in Sacramento County has died Thursday morning in Washington State. He was shot and killed after an all-night standoff that included a large fire.
The man's name has not been released, and it is not clear right now what he and his girlfriend are wanted in connection with. The man's girlfriend was arrested earlier this week.
When an officer approached the man, he showed a fake Washington license. Later, officers learned he was wanted out of Sacramento and when Hoquiam officers served the arrest warrant Wednesday, the man opened fire.
The officer who was shot was treated and released. Other officers returned fire, and the man went inside the home.
Several agencies in the area, which is about 75 miles southwest of Seattle near the coast, responded to the home to help with the overnight standoff.
Twice a robot was sent near the home to get a better view; the first one was shot at by the man, the second one was able to put gas into the home. The man shot at officers after gas was set off inside the home.
Around 6 a.m. Thursday, there was activity inside the home and a short time later a fire was seen from the upstairs of the home.
The man came to the front door of the home and was armed, officers say he refused to come out any future or put down the weapons, and he was shot and killed.
Firefighters are still fighting the fire, and have not cleared the home for investigators at this time.