This is an archived article and the information in the article may be outdated. Please look at the time stamp on the story to see when it was last updated.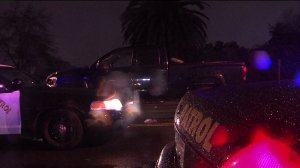 SACRAMENTO—
A pedestrian walking across El Camino Avenue, near Morse Avenue, was hit and killed Sunday night, CHP says.
The crash happened just before 9:30 p.m. Authorities tell FOX40 that the pedestrian was trying to cross El Camino Avenue in an area without a crosswalk when they were hit by a blue pickup truck.
CHP says that the driver of the pickup was under the influence at the time of the collision. The driver has been arrested and booked at Sacramento County Jail on a DUI charges.
However, the pedestrian was not only struck by the truck, but also by another car. CHP notes that the second collision looks to be an accident.
Investigators were still on scene late Sunday night. Stick with FOX40 for updates on this story.
Marin Austin and Cecilio Padilla contributed to this report.