This is an archived article and the information in the article may be outdated. Please look at the time stamp on the story to see when it was last updated.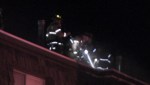 FOOTHILL FARMS –
What looked like a 'fire bomb' to one witness was launched from one roof to another and started a fire Thursday night in Foothill Farms.
Sacramento Metro Firefighters came to the scene around 9:30 p.m. at Hillsdale Boulevard and Greenholme Drive.
A security guard saw a person throw the device onto their neighbor's home and was able to lead Sacramento County Sheriff Deputies to the suspect, who said he smelled like gas and wasn't acting right.
It's unclear if the person Thursday night was related to the person who threw a molotov-cocktail-like device Wednesday night in North Sacramento.
At least one person had to leave their home and is being helped by the Red Cross.