This is an archived article and the information in the article may be outdated. Please look at the time stamp on the story to see when it was last updated.
ORANGEVALE-
A horse named Phantom needed some help Wednesday after becoming stuck in a bathtub. The animal was completely wedged in the tub on its side, with his feet off the ground outside a Sacramento County home.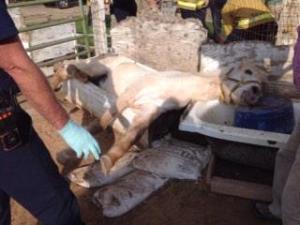 A photo from Metro Fire shows Phantom stuck in the outdoor bathtub just before 10 a.m. It was outside a home on Bunting Court in Orangevale.
It took about 20 minutes for crews to get some tools underneath Phantom, and lift him out. Firefighters say the horse "popped" out of the tub.
Phantom is a palomino appaloosa. Emergency crews onscene say he is expected to be fine.