This is an archived article and the information in the article may be outdated. Please look at the time stamp on the story to see when it was last updated.
OROVILLE — Photos from Oroville appear to show damage along the Oroville Dam's spillway.
The Department of Water Resources said there was no damage to the dam itself, and no danger to the public. Flows were gradually reduced, then halted, the DWR said.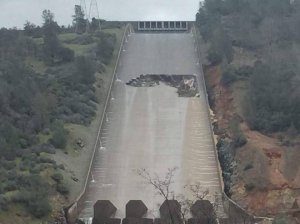 A photo from Richard Winterrowd shows the damage spanning nearly the whole width of the spillway.
Oroville residents Gary Lease and Beth Bello were out for a Tuesday morning walk when they saw the water spilling erratically and shot video of it which has been widely shared.
"We noticed, 'wait a minute there's a whole bunch of water shooting up out of the spillway,'" Lease recalled. "And we got closer and we saw little chunks of concrete flying up too. And we go 'wow this isn't right.'"
"It's not normal to have the water going up from midway of the spillway," Bello added.
Water was being released out of the dam at nearly 60,000 cubic feet per second Tuesday morning when the chunks of concrete came loose, according to the Department of Water Resources.
A DWR spokesman said the flow will remain shut off for three of four days while engineers assess the damage.
In a wet year, releasing water out of the dam via the spillway into the Feather River is imperative for maintaining storage space in Lake Oroville for runoff from the mountains. More water was flowing into the reservoir than flowing out during Tuesday morning's releases, according to DWR.
Currently, 20 percent of Lake Oroville is empty, the DWR said.
The agency is offering words of assurance, even while engineers plan to keep the spillway dry for a few days to assess the damage. They are increasing releases into a secondary spillway that runs through a power plant at the dam.
"We will never let the dam's water get so high as to be a major concern," said DWR spokesman Doug Carlson during a Tuesday evening news conference.
Carlson said the agency will let water flow down the damaged spillway again if necessary, "a better option than allowing the dam to become too full."
Stay with FOX40 for the latest information on this developing story.
DWR continues to assess the concrete erosion on the Oroville Dam spillway. No imminent threat to the dam or public. (Photo Courtesy: CA - DWR)

DWR continues to assess the concrete erosion on the Oroville Dam spillway. No imminent threat to the dam or public. (Photo Courtesy: CA - DWR)

DWR continues to assess the concrete erosion on the Oroville Dam spillway. No imminent threat to the dam or public. (Photo Courtesy: CA - DWR)

DWR continues to assess the concrete erosion on the Oroville Dam spillway. No imminent threat to the dam or public. (Photo Courtesy: CA - DWR)

DWR continues to assess the concrete erosion on the Oroville Dam spillway. No imminent threat to the dam or public. (Photo Courtesy: CA - DWR)

DWR continues to assess the concrete erosion on the Oroville Dam spillway. No imminent threat to the dam or public. (Photo Courtesy: CA - DWR)

DWR continues to assess the concrete erosion on the Oroville Dam spillway. No imminent threat to the dam or public. (Photo Courtesy: CA - DWR)

DWR continues to assess the concrete erosion on the Oroville Dam spillway. No imminent threat to the dam or public. (Photo Courtesy: CA - DWR)

DWR continues to assess the concrete erosion on the Oroville Dam spillway. No imminent threat to the dam or public. (Photo Courtesy: CA - DWR)

DWR continues to assess the concrete erosion on the Oroville Dam spillway. No imminent threat to the dam or public. (Photo Courtesy: CA - DWR)

DWR continues to assess the concrete erosion on the Oroville Dam spillway. No imminent threat to the dam or public. (Photo Courtesy: CA - DWR)

DWR continues to assess the concrete erosion on the Oroville Dam spillway. No imminent threat to the dam or public. (Photo Courtesy: CA - DWR)

DWR continues to assess the concrete erosion on the Oroville Dam spillway. No imminent threat to the dam or public. (Photo Courtesy: CA - DWR)