PLACER COUNTY, Calif. (KTXL) -- Two girls were reunited with their father Monday night unharmed after a car thief drove off with them.
Placer County sheriff's deputies identified the thief as Charles Hall and say shortly before 6 p.m., the car was in front of the Knutz Auto and Trucks when the children's father watched the theft happen in front of his eyes.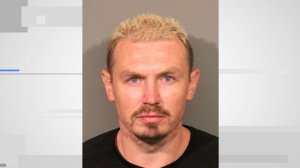 "He turns around and sees somebody in his car, essentially, backing up his car with his two children inside," said Placer County sheriff's spokeswoman Angela Musallam. "So, the father runs out, yells at the suspect to get out of the car because he has his two children inside. Suspect doesn't listen, continues backing up and takes off."
Hall drove less than a mile before abandoning the car and running away, investigators said.
Lincoln police found the stolen Ford Explorer with 1-year-old and 5-year-old siblings inside near Thunder Valley Casino at the intersection of Industrial and Athens avenues about 20 minutes later.
The children, both girls, are said to be shaken up but otherwise OK.
Witnesses said they saw a man being detained on casino grounds in connection with the incident. According to deputies, Hall ran toward Thunder Valley Casino and a K-9 tracked him onto the property.
They have been reviewing surveillance tape at the auto repair shop and the casino.
Hall declined to speak to FOX40 from the Placer County Jail on Tuesday.