This is an archived article and the information in the article may be outdated. Please look at the time stamp on the story to see when it was last updated.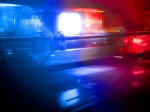 SACRAMENTO-
A plane flying from Seattle to Las Vegas had to make an emergency landing Monday afternoon after an "electrical smell" was reported in the cabin.
No injuries were immediately reported on Alaska Airlines Flight 606, and the cause of the smell is unknown.
There were 156 people on board the Boeing 737 twin jet plane. An Alaska Airlines representative told FOX40 that the passengers will either wait in Sacramento until their plane is deemed safe, or they will board a different flight to Las Vegas.
Passengers will be placed on separate flights and continue on their way to Las Vegas.
FOX40 has a crew heading to the scene now and will bring more information as the story develops.