This is an archived article and the information in the article may be outdated. Please look at the time stamp on the story to see when it was last updated.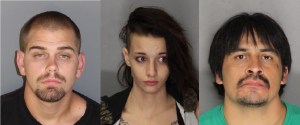 CITRUS HEIGHTS—
Police in Citrus Heights have arrested three people in connection to a scary broad-daylight, seemingly road-rage fueled carjacking from Saturday.
According to a release from the Citrus Heights Police Department, two men are said to have cornered another man near Lichen and Carmelwood Drives around 3 p.m. after some kind of road rage incident.
The men – 33-year-old David Issac and 23-year-old Christopher Long – are said to have intimidated the other man, forcing him to get out of his Honda sedan. Long then got into the man's car and drove off, police say.
Thanks to a bystander who saw the whole incident unfold, police were got the full license plate of the SUV Issac was driving at the time. Police immediately learned that the SUV was also reported stolen.
Officers were able to catch up to Issac and the SUV a short distance from the carjacking scene. During the stop, police found that 18-year-old Shantaylah Castner was in the car with Issac. Police say that Castner was in possession of narcotics at the time, so she was also arrested along with Issac.
Also found inside the SUV, police say, was stolen property from numerous burglaries in the area.
Long at the stolen Honda were later found along Garden Park Court in Carmichael. Police say that Long was busy trying to strip the Honda when officers showed up.
All three were booked at Sacramento County Jail.