This is an archived article and the information in the article may be outdated. Please look at the time stamp on the story to see when it was last updated.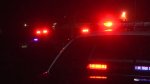 VALLEJO-
Vallejo Police say eight people were shot Saturday night after getting a flat tire along Princeton Avenue.
Officers say they originally found five people at the residence suffering from gunshot wounds. One person, a 19-year-old man, was pronounced dead at the scene by paramedics.
Investigators later learned that three other people went to hospitals with gunshot wounds that could be traced back to the Princeton Avenue shooting, according to a new release from police.
According to police, investigators believe four carloads of people from the San Francisco area were headed to a house party when one hit a curb and got a flat tire. The other three cars pulled over to help their friends, officers say.
When the group was trying to fix the tire, investigators believe a white SUV with tinted windows pulled up alongside the group and opened fire. Detectives say only one person fired the shots.
As of yet, investigators say they have no motive for the shooting.
Anyone with information about the shooting is asked to call a Vallejo Police tip line at (800) 488-7147.