This is an archived article and the information in the article may be outdated. Please look at the time stamp on the story to see when it was last updated.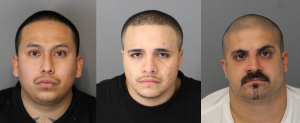 MANTECA—
Police in Manteca have arrested three men suspected of breaking into a Manteca home Tuesday morning.
According to a release from the Manteca Police Department, a 13-year-old boy was inside of a home near Agate Avenue and Sapphire Way when, around 9:46 a.m., he heard a unknown person knocking at the door.
The boy, while still on the phone with 911, was able to get out of the house. But, two men then got into the house through the back glass door.
Officers were able to get to the scene in time to find the suspects' SUV still idling in the driveway. Police were able to arrest the two men who made their way inside the home, as well as the man still sitting in the SUV. Police say one of the men tried to get away by jumping out of a bedroom window, but he was eventually caught.
Police note that stolen property from other reported burglaries throughout Manteca were found in the SUV.
All three men – 25-year-old Christian Flores, 20-year-old Mario Blanco and 32-year-old Christopher Collum – were booked on burglary, child endangerment and conspiracy charges.