This is an archived article and the information in the article may be outdated. Please look at the time stamp on the story to see when it was last updated.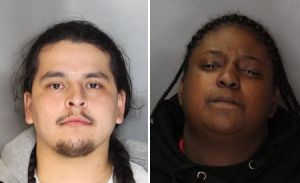 SACRAMENTO-
Police in Sacramento say two people were arrested just minutes into 2014 after they reportedly fired celebratory gunshots from atop a parking garage in Old Sacramento.
Officers responded to the parking garage on Neasham Circle, near Front Street, after hearing the shots. Police say witnesses in the area identified 22-year-old Rafael Avendano as the alleged shooter. Witnesses also reported that 24-year-old Tatiana Lee was with Avendano at the time.
Old Sacramento already had an increased presence after two people were shot and killed during a dispute in the final hours of 2012.
Avendano was booked on charges of discharging a firearm in a grossly negligent manner and possession of a stolen gun, as well as several gang enhancements. Lee was also booked into jail on conspiracy charges.