This is an archived article and the information in the article may be outdated. Please look at the time stamp on the story to see when it was last updated.
STOCKTON — The teen accused of assaulting a Sikh man in Manteca was arraigned Friday.
Tyrone McAllister, 18, is facing charges of elder abuse, attempted robbery and assault with a deadly weapon. He flipped his middle fingers at FOX40's camera during his arraignment.
McAllister is the estranged son of Union City Police Chief Darryl McAllister. Investigators say tips from the public and help from McAllister's family helped officers make an arrest.
A 16-year-old was also arrested, but his identity has not been made public because of his age.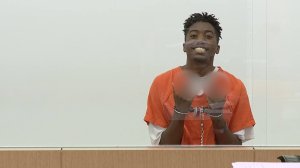 Investigators with Manteca Police say McAllister and the younger teen assaulted 71-year-old Sahib Singh Natt during one of his morning walks around Graystone Park. The assault was caught on a home surveillance camera.
Natt is doing well after the attack but is too afraid to go on walks.
"The Sikh community, it has hit them hard but, you know, I would say that it's not just the Sikh community, I think it hit the whole community of Manteca hard," City council member and family friend Gary Singh said.
Bobby Bivens, president of the Stockton branch of the NAACP, was also in the courtroom Friday. He says he doesn't want the attack to divide the community.
"As to whether it was just a crime or a hate crime, I'm of the opinion that at this point, looking at the videos, that it's just a crime committed by some young people," Bivens said.
McAllister's father said in a statement posted to the Union City Police Department's Facebook page that the teen needs to be held accountable for his actions.
No bail was set for McAllister.