This is an archived article and the information in the article may be outdated. Please look at the time stamp on the story to see when it was last updated.
CITRUS HEIGHTS — Police identified an armed suspect who was killed Tuesday night after firing at a K-9 and officers near Sunrise Mall in Citrus Heights. The police department identified him Wednesday as 26-year-old Grayson Schuessler of Orangevale.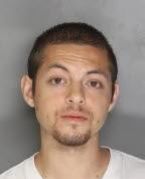 Gunfire quickly rang out around 7:30 p.m. as officers responded to reports of a man with a handgun in the Sunrise Mall parking lot, according to the Citrus Heights Police Department. While customers shopped in Macy's, police report a single bullet went through a storefront window. No one was hurt. Citrus Heights police officers say they watched as Schuessler ran down Greenback Lane in front of Brake Masters and toward the nearby Burger King. A K-9 handler and his police dog, Axel, were among the first on the scene. Investigators said when the officer spotted Schuessler, he immediately released K-9 Axel. "The suspect turned towards the K-9 dog and our officers and fired at least one round directly at them," said Citrus Heights Police Lt. Dave Gutierrez.
NEW: Officers from @citrusheightspd say the suspect shot at them immediately as they arrived to investigate reports of a man with a gun in the Sunrise Mall parking lot. He was shot by officers and died on scene. @FOX40 pic.twitter.com/Zw4CpEMjeX

— Sonseeahray Tonsall (@tonsalltv) July 10, 2019
Axel chased after the gunman as he took off and soon caught him, according to the police department. "The male subject fire two rounds at point-blank range directly towards the K-9's head, as well as towards the officers," Lt. Gutierrez said. That's when officers fired back and hit Schuessler. He died at the scene. Police say Schuessler was on felony probation for elder abuse at the time of Tuesday's shooting and had interacted with Citrus Heights officers in 2014 because of a traffic violation. He used a .357 Magnum revolver in the shooting and was found with 20 additional rounds of ammunition for the handgun, according to the police department. He was also holding a black airsoft gun that looked like a semi-automatic handgun. Investigators still do not know why he began firing outside the mall. "If you point a gun at a police officer or shoot at a police officer, we're gonna take action and we're likely going to shoot back," said Citrus Heights Police Chief Ron Lawrence.
NEW: @citrusheightspd say one human officer was shot through the shirt… luckily not wounded. A K-9 was shot in the face and is now being treated. @FOX40 pic.twitter.com/RJC7dnOCl1

— Sonseeahray Tonsall (@tonsalltv) July 10, 2019
Police haven't publicly identified the suspect, although they say they are familiar with him from a previous incident.
The police department initially believed the bloodied K-9 was grazed in the face by the suspect's gunfire and his handler rushed him to a veterinarian. However, once Axel was cleaned off, they realized he had not been hit and instead had the suspect's blood on his face, according to a press release sent Wednesday. "We absolutely believe that the dog's actions saved their life," Axel's handler, a veteran of the department, was also alright despite a bullet piercing through the lower left side of his uniform shirt. It didn't penetrate through his vest. At one point, another bullet hit a car driving by the scene, according to witness Andrew Forsythe. It went through the windshield, nearly hitting the woman behind the wheel. "It had passed through, went right by her head, caught a little bit of her hair in her seat, put a hole inside of her headrest and went right by her child's seat rest as well," Forsythe explained. Security staff at Sunrise Mall said the mall was not placed on lockdown nor was it evacuated during the incident. Greenback Lane from Sunrise Boulevard to Fair Oaks Boulevard was blocked off, along with Arcadia Drive for several hours. The area reopened around 6:40 a.m. Wednesday.