This is an archived article and the information in the article may be outdated. Please look at the time stamp on the story to see when it was last updated.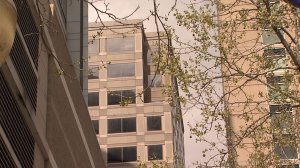 SACRAMENTO—
Police are now saying that the man found dangling and dead from a downtown building looks like he was trying to tag the place.
A bottle of spray paint and some type of glass cutting tool were found, Sacramento Police Department spokeswoman Michelle Gigante told FOX40.
His death looks to be an unfortunate accident, she said. A door was found propped open on the roof of the building at 12th and K Streets, suggesting the man was planning on going back down the stairs.
As noted earlier, the man looked like he knew how to hang himself off the side of a building like a rappeller.
Police are still investigating the incident.
Another alleged "tagger" died last month; Andrey Petkov fell from a freeway over-crossing.