This is an archived article and the information in the article may be outdated. Please look at the time stamp on the story to see when it was last updated.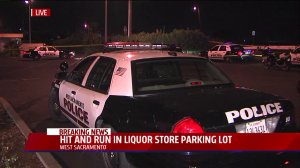 WEST SACRAMENTO—
Police in West Sacramento are looking for an RV that hit and killed a man standing in a parking lot.
The incident happened a little before 10 p.m., a West Sacramento Police representative told FOX40.
An RV at in the parking lot of Low Cost Liquor store along Sacramento Avenue is said to have hit a man and then took off. The man was pronounced dead at the scene.
Witnesses say the vehicle was a large, white, 90's style RV with a brown stripe.
More information to come. Stick with FOX40 for updates.