This is an archived article and the information in the article may be outdated. Please look at the time stamp on the story to see when it was last updated.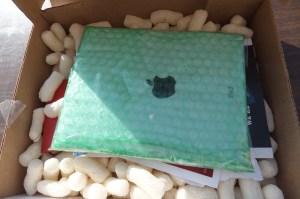 CERES—
Police in Ceres are asking residents to be extra careful when buying high-price electronics after numerous frauds have been reported.
According to a release, the Ceres Police Department has been fielding numerous calls about people being scammed into buying Apple products that, on the surface, look legitimate. But, after the victim pays and walks away, they find that their shiny new toy is really just a piece of wood or tile with the Apple logo pasted on.
In photos provided by Ceres Police, the fake items are packaged in bubble wrap that makes the iPad look new. Fake TVs are also another item scammers have wrapped up and sold to unsuspecting victims.
Ceres Police ask anyone who has been hit by scammers selling fake items to call them at (209) 538-5712.