This is an archived article and the information in the article may be outdated. Please look at the time stamp on the story to see when it was last updated.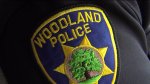 WOODLAND-
Woodland Police are looking for burglars that made off with thousands of dollars of electronics from a Best Buy early Thursday morning.
Investigators say the burglars cut through a roll-up door in the back of the building on Bronze Star Drive shortly after midnight.
The store suffered about a $10,000 loss, police say. Investigators added that the thieves took small electronics.
Anyone with information about the burglary is ask to call Woodland Police at (530) 661-7800.