This is an archived article and the information in the article may be outdated. Please look at the time stamp on the story to see when it was last updated.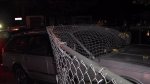 SACRAMENTO-
Police say a driver fell asleep at the wheel early Monday morning and crashed through a fence near 16th and Basler Street.
No one was hurt in the crash, though there was a little mess left to be cleaned up.
Officers note that some signs were knocked over, too.