This is an archived article and the information in the article may be outdated. Please look at the time stamp on the story to see when it was last updated.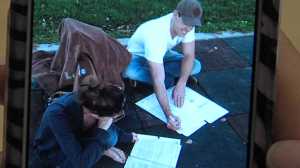 SACRAMENTO-
Jefferson Elementary School's polling site was shut down due to a gas smell Tuesday.
The workers noticed it around 4 p.m. and called out PG&E and the fire department to check it out.
During that time the workers had to relocate all the voters, the machines and the ballots to the playground. Then, as if things couldn't get worse, they were losing daylight.
A neighbor opened his garage across the street. Once again, workers relocated everyone and the machinery to man's garage. About 20 minutes later the fire department gave the workers the all clear, meaning they had to once again relocate everything to the school for the remaining two hours of voting.
The ordeal while hectic didn't detour any voters, in-fact that period of time was the busiest this location saw all day.